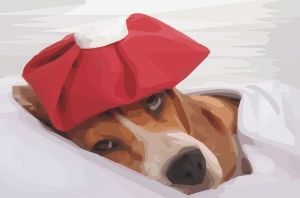 WHY VACCINATE?
Vaccine recommendations are an unending source of controversary in veterinary medicine, but one thing we can all agree on is that it is important to vaccinate puppies and kittens to protect them (and in some cases ourselves) against diseases that can be life threatening. Studies, however, do show that we have recommended vaccinations too often, and in some cases the risk of vaccination has out weighed its benefit to our pets. In other words many vaccines protect for many years, and all vaccine recommendations should be made with life style and risk of exposure in mind.
SHOULD I BE CONCERNED ABOUT VACCINATIONS?
Vaccinations are made to stimulate immunity. That is what we want them to do to protect our pets against serious disease. But it is possible that they also stimulate immune reactions that are less specific, causing chronic generalized inflammation. Over the years and with frequent exposure to the "antigen" (the stuff in the vaccine) our pet's bodies can be in a chronic hyperimmune state, and we can see various diseases develop, from hardball sized lumps in cats where we have given vaccines, to skin disease, possible autoimmune disease and even cancer.
So to avoid these risks we should only vaccinate when necessary, or in other words, when the benefits outweigh the risks.
SHOULD MY PET RECEIVE CORE VACCINES?
In my holistic veterinary practice I generally recommend serial vaccination with core vaccines (DHPP in dogs; upper respiratory disease, feline distemper in cats) during puppy and kittenhood and at one year of age. Beyond that I recommend blood titers be drawn every two to three years to determine the need for boosters, or for owners who do not want titers drawn, core vaccines no more often than every three years. Studies seem to indicate that protective titers are frequently acheived for life following the one year booster in the above core vaccines.
HOW ABOUT RABIES VACCINES?


Rabies vaccine schedules are frequently set by law and the recommended frequency of booster vaccines vary by the vaccine administered. Some rabies vaccines are licensed for only a year, some for three. Currently there are 5 and 6 year Rabies challenge studies being conducted, so keep track of these studies on the internet. We may be giving rabies vaccines only two or three times in an animal's life depending on the results of these and subsequent studies.
HIGH RISK/LOW RISK: LIFESTYLE MATTERS


Other vaccinations should be given only if the risk of exposure is greater than the risk of the vaccination. You should discuss diseases that are endemic to your area or areas where you and your pet travel with your family veterinarian. Then decide on a case by case basis what vaccines your pet should have and which vaccines your animal friend can do without. Veterinarians should be aware of the length of protection each recommended vaccine affords.
IF MY PET HAS A CHRONIC DISEASE SHOULD I VACCINATE?
Sick animals or those with a chronic disease should avoid vaccination if possible. (Exemption certificates can be issued for those pets who must be licensed but have had prior history of vaccine reaction or have a chronic disease. Each state and local authority decides whether to abide by these exemption certificates however). Animals who have an acute illness should be vaccinated only when they have recovered completely. Finally, any animal that has had a reaction to a vaccination should never again be vaccinated for that disease. In cases of previous vaccine reaction the risks do truly outweigh the benefits of the vaccination.