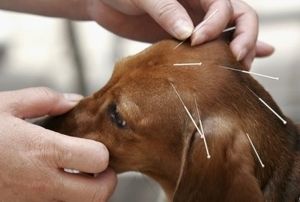 WHAT IS ACUPUNCTURE?
Acupuncture, a form of holistic veterinary care, is stimulation of specific points on the body with needles, light, heat or electricity to achieve healing and balance energy flow. It is one of the five branches of Traditional Chinese Medicine .



HOW DOES IT WORK?

The ancient Chinese people discovered and mapped 173 points in animals called acupuncture points or "Shu-xu". Modern research shows stimulation of these points releases beta-endorphin, serotonin and other neurotransmitters. Acupuncture for pain relief is well established, and it's benefits in treating seizure, hormonal imbalances, diarrhea, constipation, cough, allergies, kidney disease and asthma are also documented.

IS ACUPUNCTURE SAFE AND PAINLESS
?
Acupuncture is safe when performed by a certified veterinary acupuncturist (CVA) who uses sterile disposable needles. It is practically painless and many animals find it relaxing. Pet owners frequently hold their dogs or cats in their lap or sit near them during the treatment. For animals who are too painful to tolerate needles cold laser (needless) acupuncture is available. Side effects are rare but do occur. An animal may become sleepy or their symptoms may worsen for 24 hours after a session. These effects are an indication that physiological changes are taking place and is most often followed by improvement in the animal's condition. On rare occasions a needle may break and require surgical retrieval.

HOW LONG DOES A SESSION TAKE?
Treatments last from 20 minutes to an hour depending on the temperament of the animal, the complexity of the disease, and the type of acupuncture required. The acupuncturist may use electrical stimulation, cold laser, or injections to augment the effects of a dry needle session, and, at times, suggest other forms of holistic veterinary that may benefit your pet.

HOW MANY SESSIONS WILL MY PET NEED?
Three to eight sessions one to two weeks apart are generally necessary to evaluate response, but benefits are often noted in the hours after treatment. Healing effects are compounded over time and number of treatments. Chronic disease will often require periodic sessions to maintain the benefits of acupuncture. Frequency of sessions beyond the initial series are determined by the pet's response, and the client's use of prescribed herbal medicine, dietary recommendations, and other forms of holistic veterinary therapy. Acute disease may resolve after the initial sessions, requiring no further therapy.

WHAT CONDITIONS RESPOND TO ACUPUNCTURE?

While acupuncture helps diseases of the major organs, such as the heart, liver and kidney, it can also aid reproduction and fight immune disorders. Acupuncture can provide pain relief for muscle and joint problems such as hip dysplasia , arthritis, lameness and ligament injuries. It can treat nervous system and spinal problems (spondylitis, degenerative nerve disease, nerve injuries, epilepsy, and balance problems) skin disorders (allergies, eczema, chronic itching and lick granulomas), digestive disorders (chronic diarrhea, vomiting, constipation, ulcer, colitis), emotional stress (anxiety and lethargy) and can be an adjunctive therapy for cancer by reducing nausea and improving the sense of well-being.


ARE THERE OTHER HEALING MODALITIES THAT MAY BENEFIT MY PET?
The five branches of traditional Chinese veterinary medicine, exercise, massage (tu'ina), herbal medicine, food therapy and acupuncture, are synergistic and powerful holistic healing modalities for our animal friends, and may be recommended by your veterinary acupuncturist to restore and maintain the health of your pet.

PBS SPOTLIGHT ON TRADITIONAL CHINESE VETERINARY MEDICINE